What is Valheim Plus?
The plugin Valheim.plus  is by far the most popular BepinEx plugin available for Valheim. Valheim Plus adds some really cool features to your server, and also a few features we are surprised were not included with the standard Valheim server.
The most notable of the features with Valheim Plus is the ability to change the number of server slots on the server - this was desperately needed. With the standard server you can only host a game with a maximum of 10 active players, but with Valheim Plus installed you can have as many as you like. You can even remove the requirement to have a password on your server!
Valheim Plus Exclusive Features
Shared Maps - Players can share the discovered map whether they are online or offline. Your map will sync to the server when joining.
Advanced Building Options - Players can modify an object's position and rotation int he default building mode.
Build From Chests - Players can build from chests when using the hammer tool.
Fuel From Chests - Players can automatically fuel all fire sources from chests.
Auto Deposit Item - Players can auto deposito items into chests from the beehive, kiln, smelter and furnace.
And plenty more cool features that are only a few clicks away!
How does Valheim Plus work?
Valheim Plus is installed on your server as a mod for the BepinEx mod loader. Your server will first need support for BepinEx. Once you have BepinEx installed on your server you can go ahead and download the mod from the Valheim Plus Website. Follow along below for detailed instructions on how to get setup.
---
How do I install Valheim Plus on a server?
How you install Valheim Plus will depend heavily on your server hosting provider. We'll outline how to get setup with ServerFlex, and how you can manually get setup using any other providers.
a) Setting up Valheim Plus with ServerFlex.
ServerFlex users benefit from the simple one-click installation of Valheim Plus on the platform - our system will even keep you up to date automatically and apply patches. If you already have a server you can head over to the "Plugins" tab and you will find Valheim Plus at the top of the list, simply click install and wait a few seconds for the setup to complete. If you do not have a server setup already follow the instructions below.
Head over to the ServerFlex website.
Scroll down the page to select a plan. Valheim Plus can make the server more resource heavy, so do bear that in mind.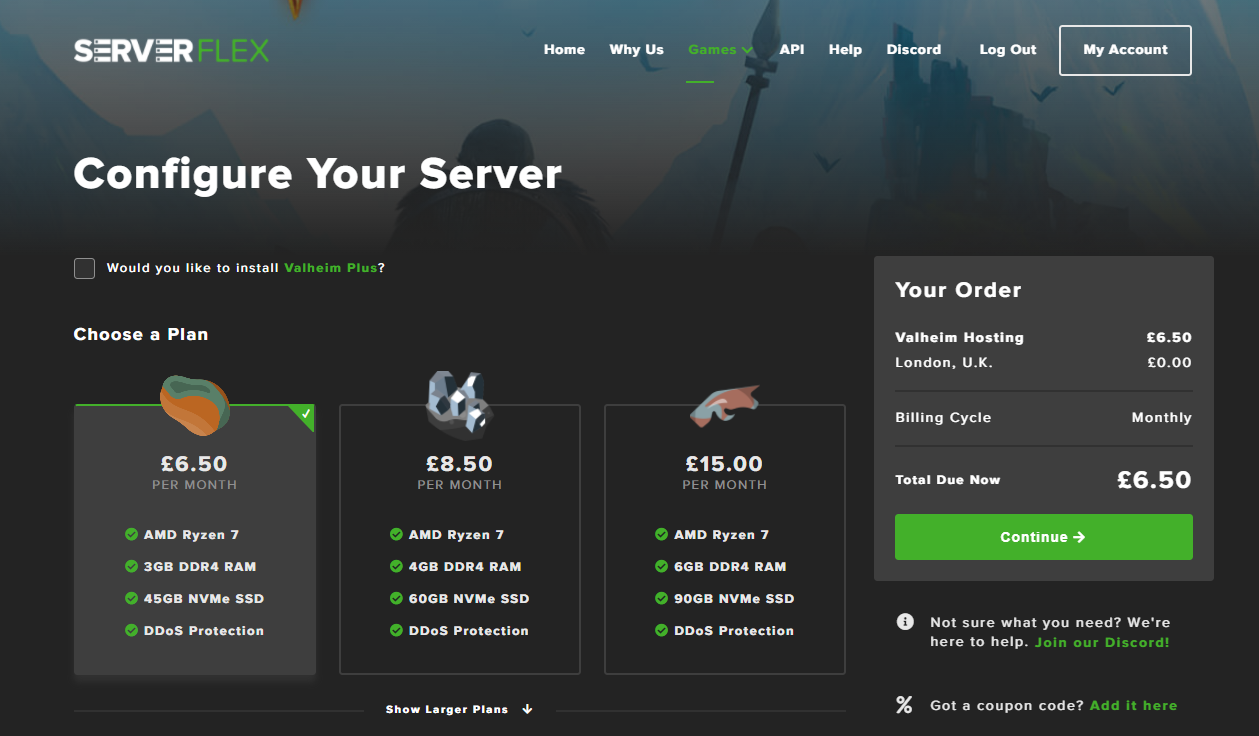 Towards the top of the screen you should see a checkbox asking if you would like to install Valheim Plus with this server. Simply click this box.
That's it! Finish deploying your server and Valheim Plus, along with BepinEx will be automatically installed on your server and is ready to go.
Make sure to follow the instructions further below about setting up your client to be able to play with Valheim Plus.
b) Setting up Valheim Plus on your self hosted server or another Valheim server hosting provider.
Turn off your server and connect to your hosting provider using an FTP client.
Locate the game folder on your server, this can generally be found inside the root directory when connected via FTP.
Using your web browser head over to this website: https://valheim.plus/installation and click "Unix (Client/Server)". Click the button labelled "Direct Download" and wait for the download to complete.
Extract the contents of the TAR file either locally on your computer, or upload it to your server and extract there. When extracted make sure all the contents are placed inside the game folder.
Head over to your server shell terminal and ensure the shell script "start_game_bepinex.sh" has execute permissions on your system. Run the command "chmod u+x start_game_bepinex.sh".
Change your server launch configurations to use "./start_game_bepinex.sh %command%" and you're good to go.
---
How to setup your Valheim client to work with your Valheim server.
The install instructions for how to get your client setup can be found on the Valheim Plus website (https://valheim.plus/installation) you should use these installation instructions as they will always be up to date.