💵 On Demand Valheim & Factorio Servers. Only pay while you play.
Do you only play games like Factorio and Valheim for a few hours a week? Yes? Then why do you purchase your game servers monthly? We at ServerFlex think there is a better way.
Introducing pay-as-you-go game server hosting. The concept is simple, it's on demand server hosting whereby you only pay for the hours the server is up and running.
I'm curious, how does it work?
It starts by heading over to serverflex.io and choosing the game you would like to play. Choose a plan that suits your needs (you can always upgrade later on) and then make sure to select Hourly on the Billing Cycle screen.
Notice the cost on the right hand side of only $0.04? You are not imagining it, to host with us only costs $0.04.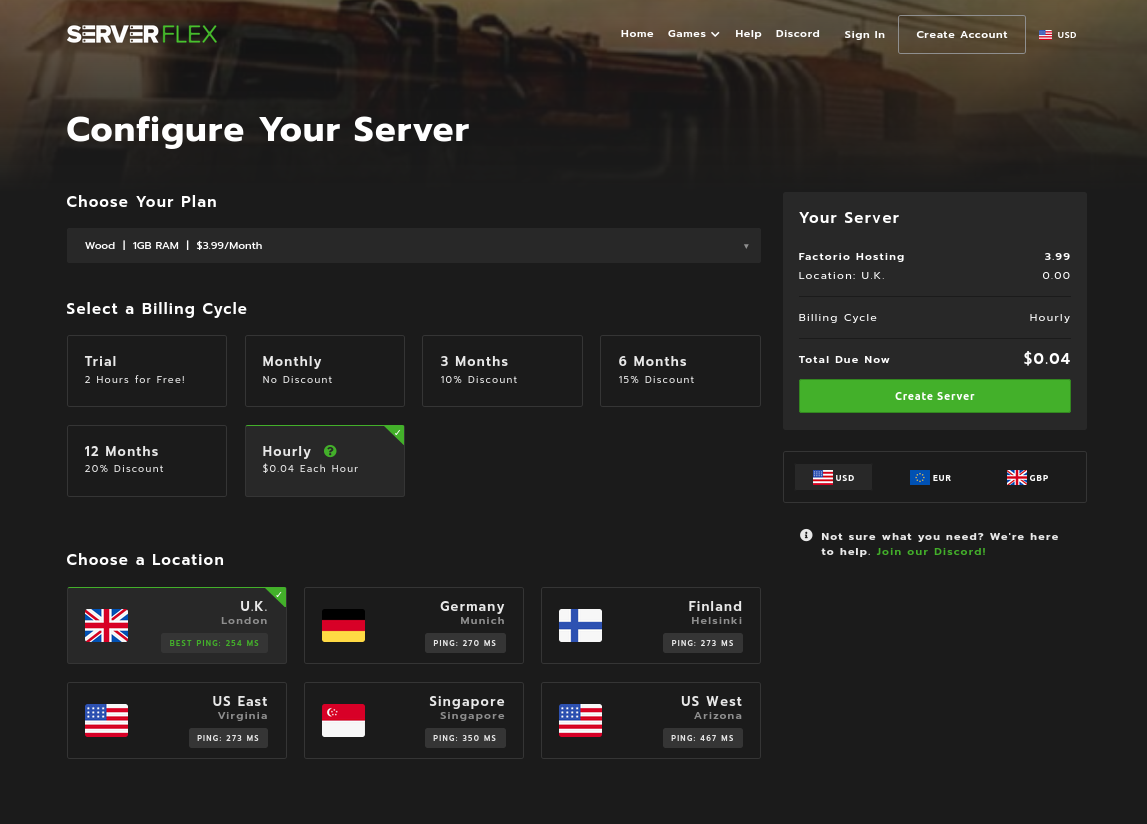 As soon as your server is deployed the clock starts ticking. We will deduct 1/100th of the Monthly price of your server from your accounts balance each hour your server is up and running. If the server costs $10/Month on our website, the hourly price is $0.01. 🤯
With ServerFlex users need to load credit into their account to utilize our exclusive pay-per-hour feature. The reasons for this can be found here - long story short, fees add up.
What about if I leave my server running for a full month?
If you leave your server up and running for an entire month, we won't over charge you. All server's cap out at the monthly maximum. Deploy with hourly for all of the flexibility, none of the risk!
Return to our website and click through the deployment process and boom - you've just got an game server setup. It's time to get playing.
Here comes the cool part, when you have finished playing for a few hours, all you need to do is download your world files from your servre (checkout out Help Articles for more details on that), and then delete the server from your account. We stop billing the moment your server is deleted.
How much can I save?
Let's assume you want to play on a Factorio Server with 5 friends and a few mods, we would recommend the Stone Plan which costs about $8. The hourly price would be $0.08/Hour.
Let's assume you and your friends like to play on a Friday night for 4 hours every week. For a year of hosting paying monthly that would be a total of $96. Let's see just how cost effective hourly hosting is:
$0.08 * 4 * 52 = $16.64
🤯 $16.64 for an entire year's worth of hosting, simply by deleting the server while you are not even playing! 🤯 That is more than an 80% saving.
That. That is why you should host with ServerFlex. We're one of the world leaders for Game Server Hosting and we are the only provider in the world to offer this feature.
---
The more technical audience might be asking: why wouldn't I host with DigitalOcean/Vultr/AWS?
We're a fully fledge gaming platform, they are not. We have been established for more than three years and have a huge range of features for a multiude of games.
Our platform is built from the ground-up by our in-house development team, meaning we achieve tight integration with the games we support.
When hosting with someone like AWS/DigitalOcean they apply the same pay-per-hour concept to their servers, but you won't get such awesome features as this:1-Click Mod installs for BepinEx and Factorio Mods, or Simple Settings to edit your server's configs without touching complicated text files.