If you are looking to create your own Minecraft server you may have seen this article by Vultr: "Deploy a Minecaft server in 60 seconds". In this article we'll be comparing the setup and deployment speed of Vultr to ServerFlex, the Minecraft modpacks and versions that each platform supports, and the ease-of-use each platform offers.
What is Vultr?
Vultr is a general cloud hosting provider - they specialise in providing cheap and reliable virtual private servers around the world for a wide range of purposes. Founded in 2014 Vultr is a giant on the global hosting stage and offer a very basic Minecraft server deployment using their one-click installer.
What is ServerFlex?
ServerFlex is a cloud game hosting provider, specialising in providing fast, reliable and cost effective game servers for a global audience. Founded in 2019 ServerFlex is attaining huge month-on-month growth from users around the world. Much like Vultr, ServerFlex offers pay-hourly pricing for Minecraft servers, allowing you flexibility when hosting your servers.
ServerFlex also accepts USD, EUR and GBP - whereas Vultr only accept USD.
---
Deployment Speed Comparison
Vultr pride themselves on offering sixty second deployments for their virtual private servers. Apps such as Minecraft are then deployed after the server has been provisioned, this setup process will have you in game in around two minutes (on average).
ServerFlex offer a completely unparalleled service, the deployment times are guaranteed to be under ten seconds for any data centre around the world. This substantial performance improvement over Vultr comes through the ServerFlex cloud being designed specifically for gaming, with games such as Minecrafft being considered from day one of development.
Supported Minecraft Versions
With Vultr you can only run the latest version of Vanilla Minecraft out of the box, using the one-click installer (1.16.5 at the time of writing this). In comparison ServerFlex offers an enormous range of modpacks and versions - you will struggle to find a version not supported by ServerFlex.
There is a clear winner in this category. You can find a full list of available Minecraft modpacks and versions here: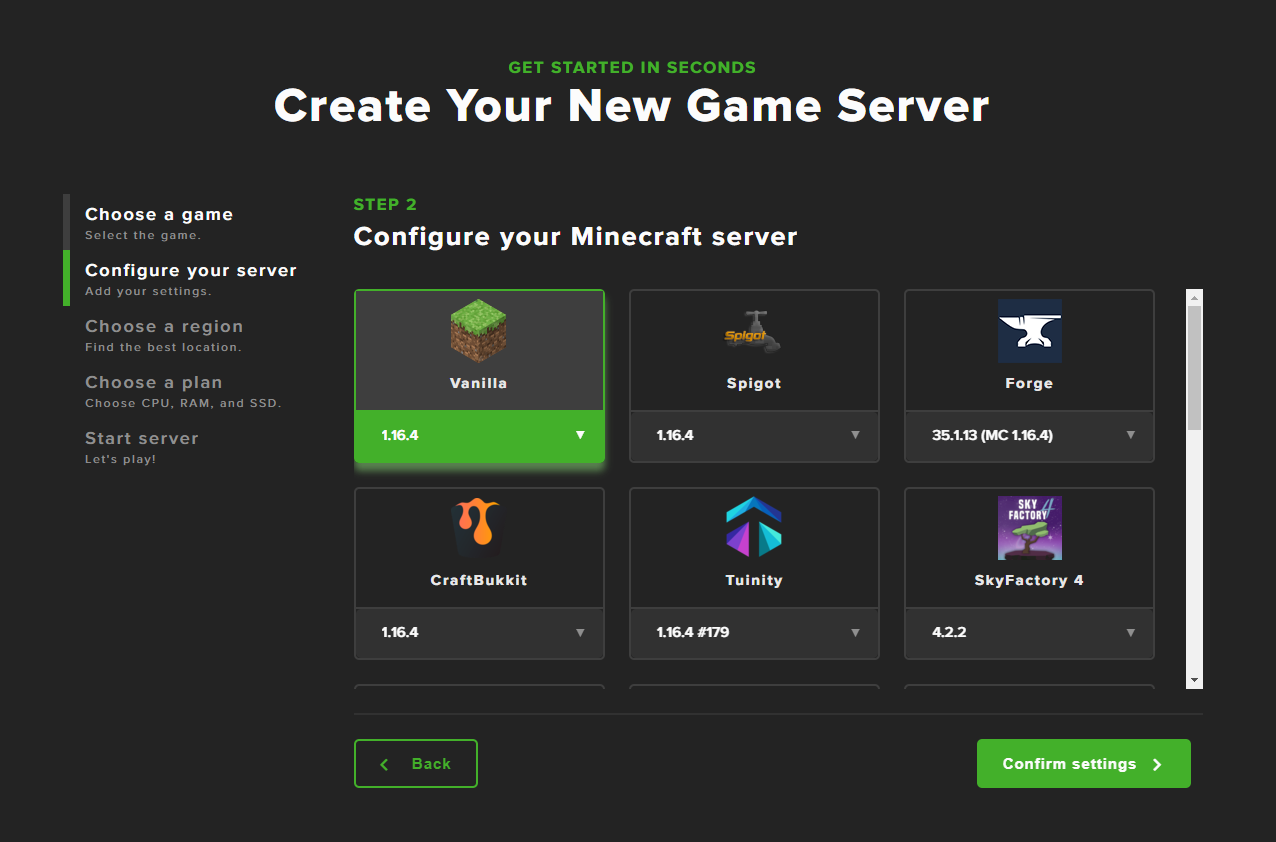 Vultr vs ServerFlex - How to setup your Minecraft server.
How to create a Minecraft server using Vultr
To create your Minecraft server on Vultr you first need to head to the Vultr dashboard and click the blue plus button on the right.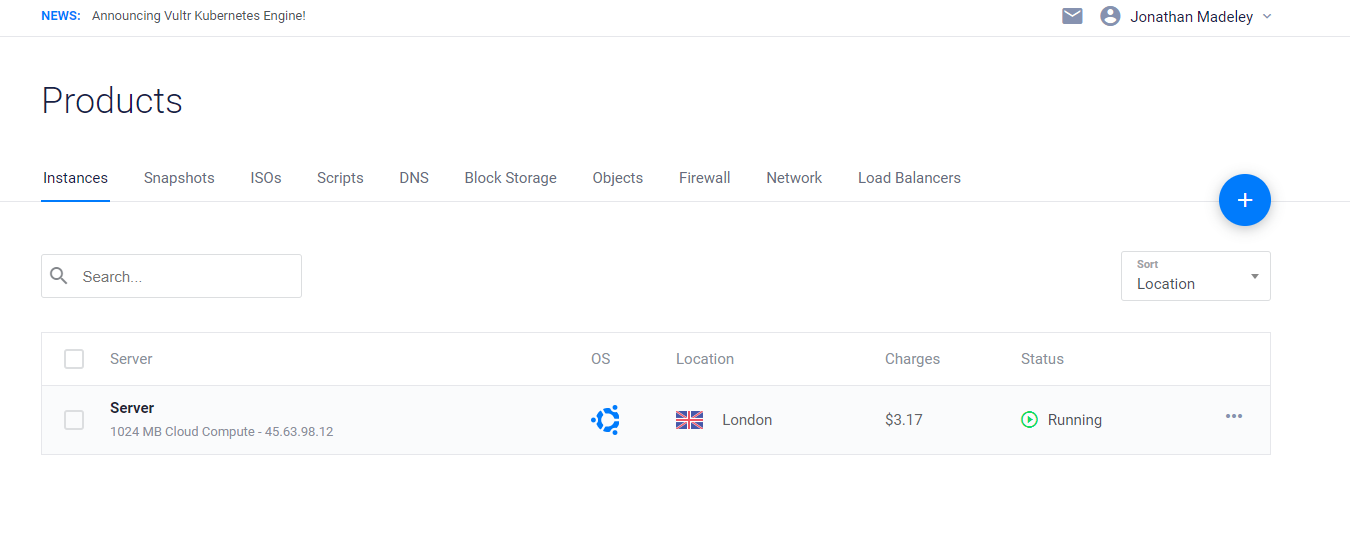 Select the region you would like to host your server - usually this would be the closest location to you geographically. Next you scroll down to the "Server Type" section and select "Application" from the navigation. Towards the bottom you will find "Minecraft".
Scroll down and you can now select a plan for the server.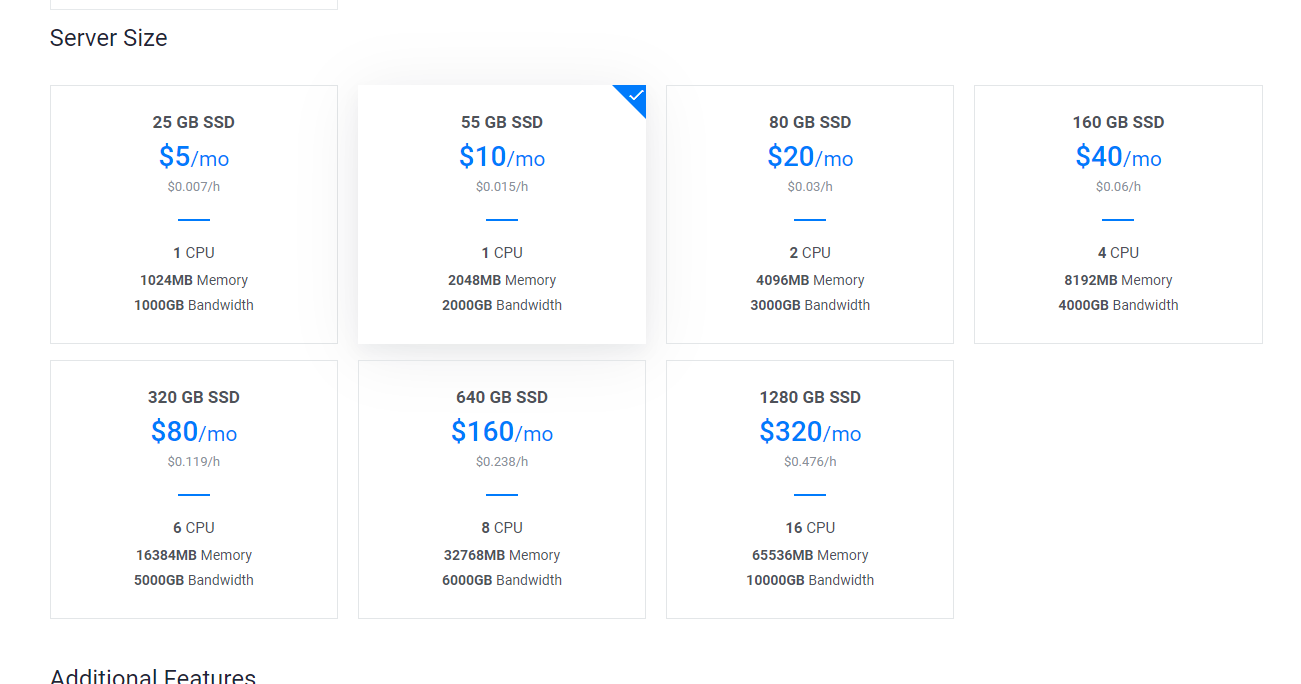 Continue down the page until you find the "Deploy" button. It will take a couple of minutes to get the server setup and ready to play.
How to create a Minecraft server using ServerFlex
Let's create your new Minecraft server on ServerFlex - you first need to head to the ServerFlex New Server Page - it should look something like this: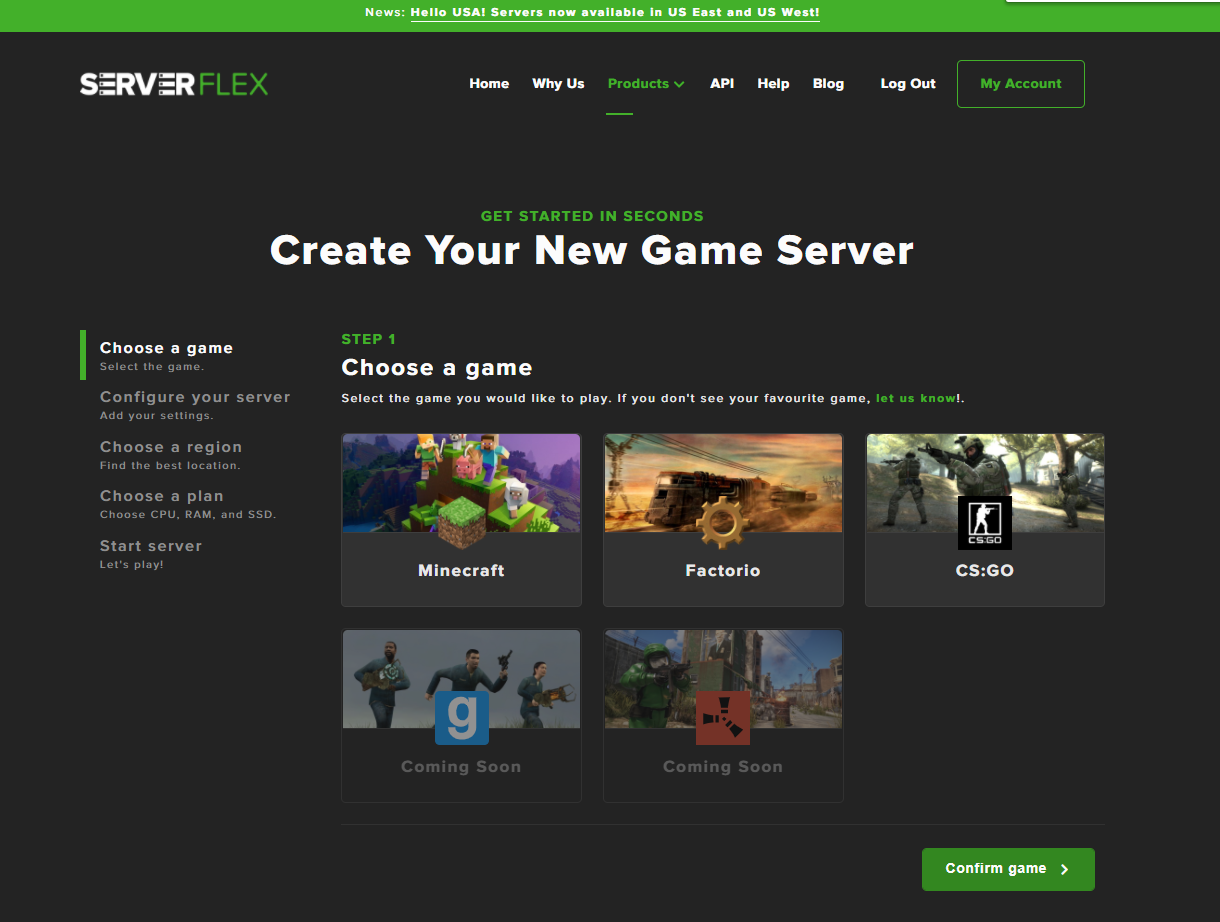 Select Minecraft and then click the next button in the bottom right corner. Next you can choose from the hundreds of different versions that ServerFlex supports - new versions are added within an hour of release so you'll never miss a new version!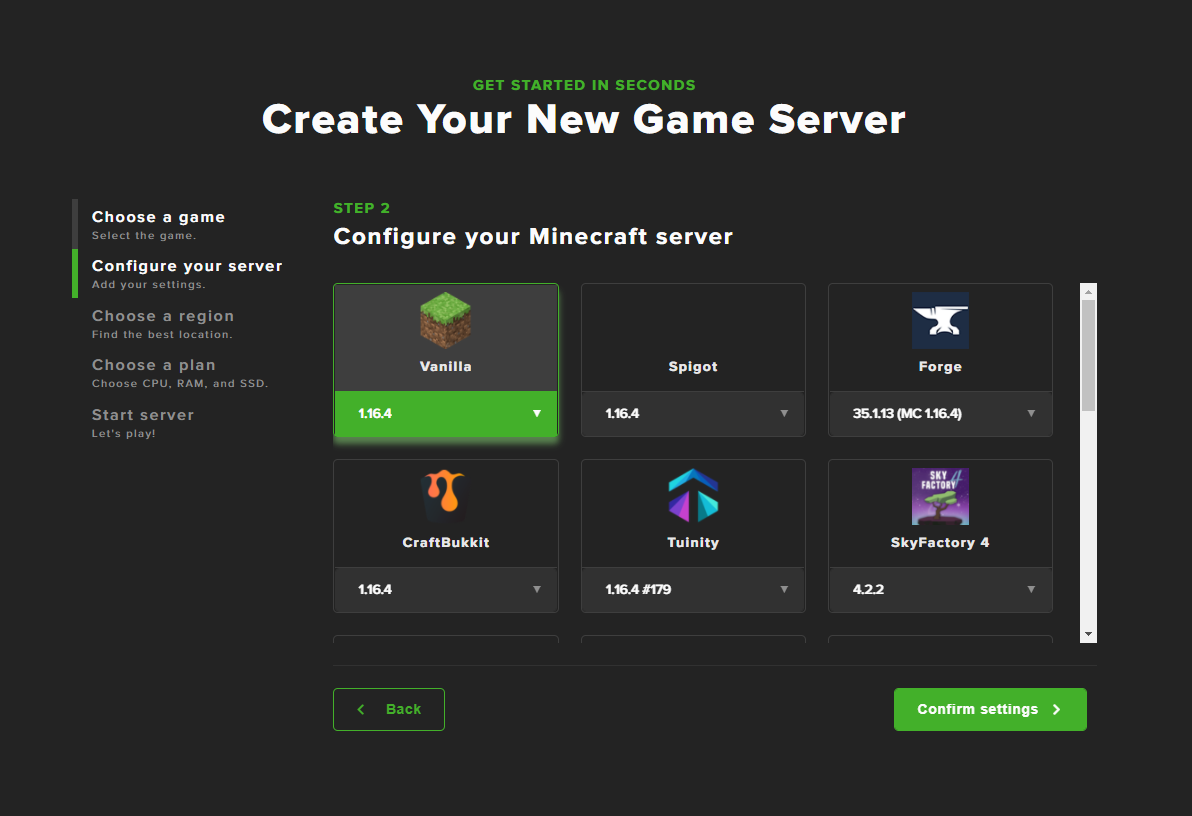 Next you select the data centre you would like to host your Minecraft server in - to help you choose the best location for your connection, a ping request is performed from your computer to each data centre - we helpfully highlight the best version for you.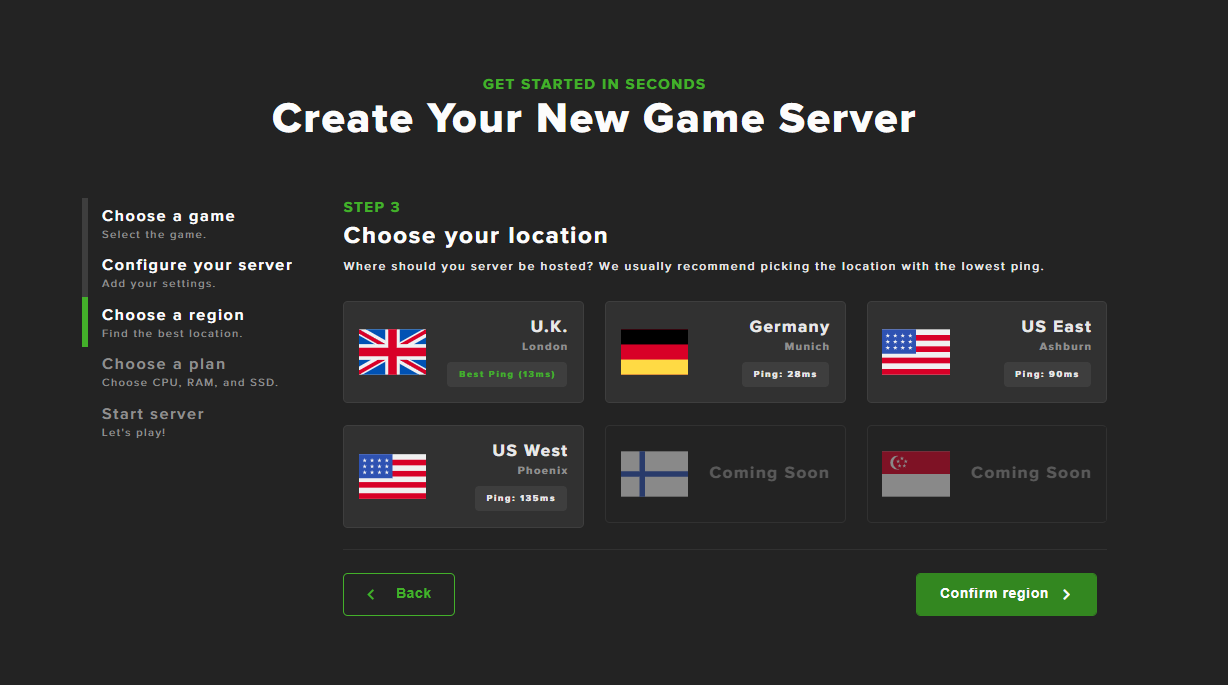 Finally you select the plan and billing model you would like to use - ServerFlex supports both pay hourly and pay monthly, you can toggle between the two in the top right corner.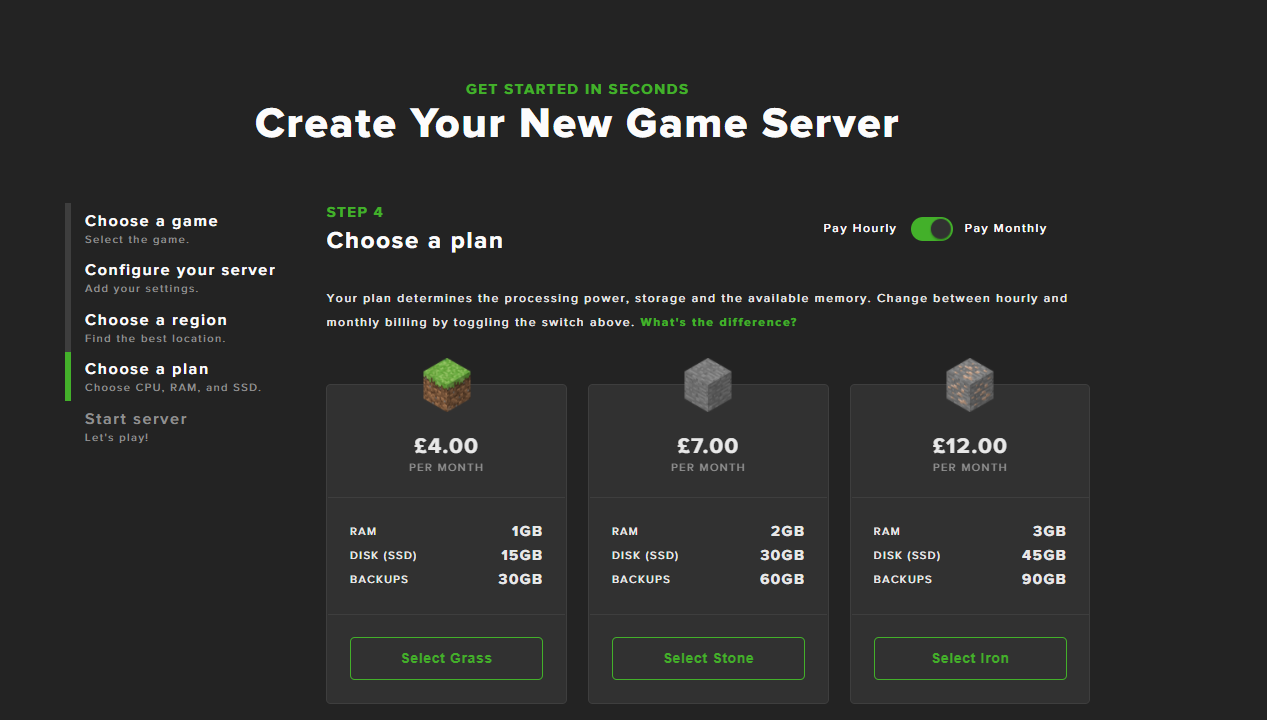 Click the deploy button on the page and you will be able to join your new server in under ten seconds!
---
Conclusion
In the debate of Vultr vs ServerFlex, we think there is a clear winner - the ServerFlex platform is tailor made to provide the best Minecraft server hosting in the world at an affordable and flexible price. Although we like Vultr and have used their products for generic cloud server hosting, ServerFlex offers a fair superior product for Minecraft server hosting at an almost identical price tag.