Paysafecard is a fantastic product, it allows you to make online purchases without the need for a credit or debit card. For this reason is is massively popular in the gaming community.
If you are looking to host your own Minecraft server, and want to pay for it with Paysafecard, then look no further!
How do I get setup.
Let's take a walk through of how you can get setup with a Minecraft server, paid for with a Paysafecard.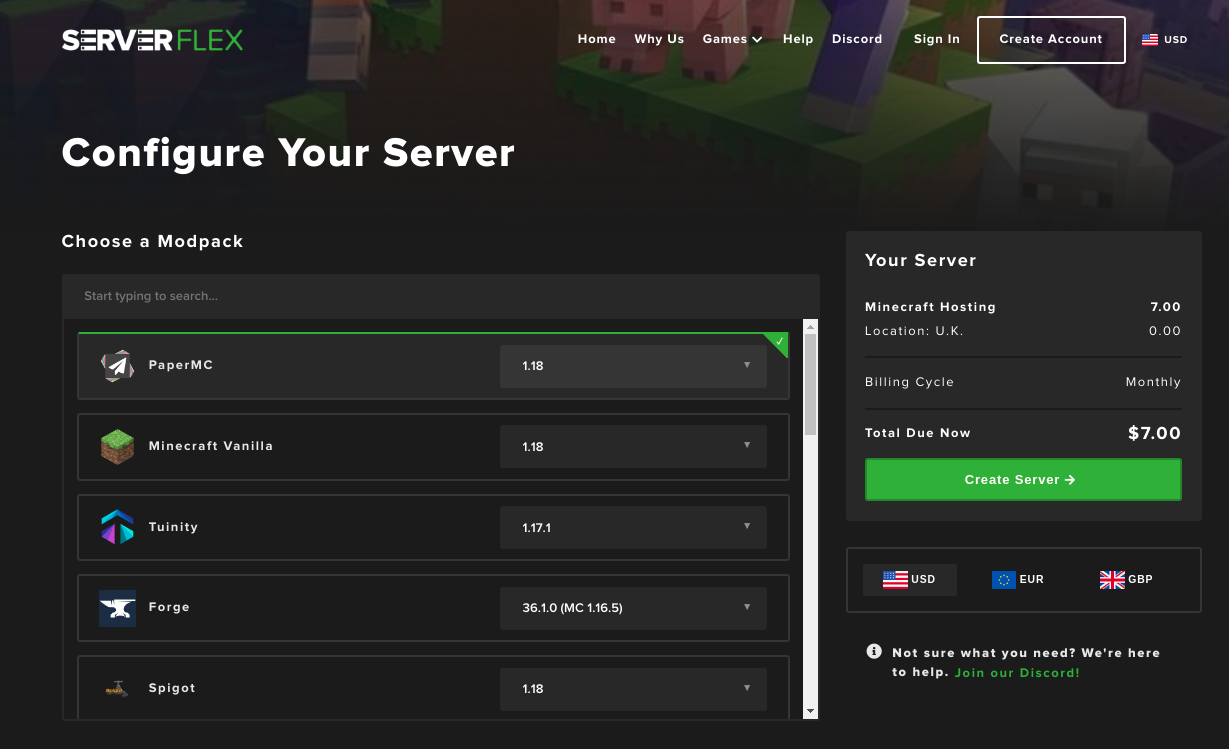 The first thing you need to do is create an account with ServerFlex - this is really simple and supports options to sign up with Google, Discord, and Steam. Start your account by clicking here.
After you have created your account, you will see your account home screen, there won't be any servers here currently - but we can change that! Find the button labelled "Create New Server" and click it.
Now we're ready to start setting up the Miencraft server hosting. The first option will be to choose the type of Minecraft server to deploy. There are thousands of modpacks and versions to play, and if you need any help deciding, our team are available in Discord to guide you through this.

For this example we are going to be using PaperMC as this is the quickest and recommended server JAR.
Next, let's choose a plan. There are a wide range of plans, all the way from small servers designed for a couple friends to play on, up to enormous community servers. If this is your first server, we recommend starting with Grass (1GB) or Stone (2GB). You can always change server size later on.
Moving down the page, you should now select a billing cycle. We offer all new users a 2 hour free trial of Minecraft server hosting before you have to input any billing information, but if you would like to get setup with Paysafecard now, click any of the other options apart from trial.
Finally it's time to pick a data centre to host your server in. The closet location with the lowest ping will already be auto selected - you probably don't have to change anything here.
Now, moving to the right side of the page you will see a box labelled "Your Server". Make sure all the details are correct and click the green button called "Create Server" on the right side.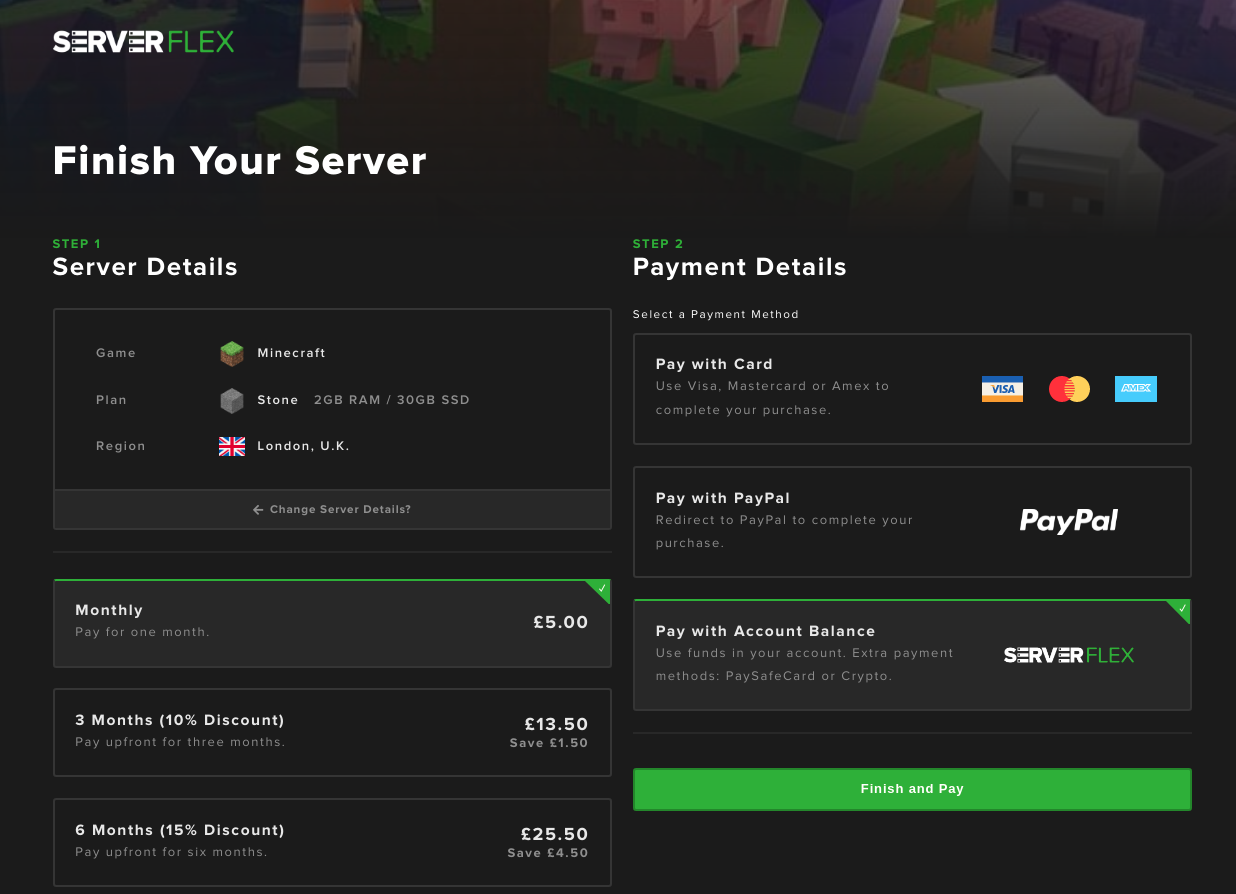 Using the Paysafecard
Select the "Pay with Account Balance" from the available payment options and click "Finish and Pay"
A screen will appear showing your current account balance. Towards the bottom of the screen will be a button labelled "Add Funds"
After clicking that button you will be redirected (in a new tab) to your account billing settings. This is where you can add funds to your account with Paysafecard.
Choose "Paysafecard" in the list and follow the instructions on screen to use your Paysafecard code.
Ensure you add enough funds to your account to cover the cost of the server.
Finially, deploy your new Minecraft server
After your payment has gone through, you will receive an email from ServerFlex letting you know the funds are available in your account.
Head back to the previous tab (the one still at the checkout), and click the on-page refresh button near the top of the pop out. Your new balance will now be displayed. Click "Pay with Balance". That's it! Your new server will be online in a few moments.
What about renewing the server?
When it comes to renewing the Minecraft server you will need to add funds directly into your account using the Billing Settings in the Control Panel. You can use Paysafecard to do this.
Which versions of Minecraft can I play?
We support almost every type of Minecraft Java server. For a detailed list, check out our full range: https://serverflex.io/minecraft-servers
We do not currently support Bedrock.
Where can I host my server?
Hosting is available in the United States, United Kingdom, Germany and Finland. We have plans to expand to more locations soon.
---
If you need any help, join our community Discord and our team will be happy to walk you through: https://discord.gg/V6sfc82nge