The idea is a simple one: start up and shut down your game servers on demand to save money. It's a simple enough concept, right? If you and your friends want to play a few hours of Minecraft, Factorio, CS:GO, Garry's Mod or a myriad of other games, you can - and you don't have to purchase an entire month of hosting to do it! Instead of spending large amounts on high spec servers for an entire month, why don't you just pay for the time you're actually using the server - short term game server hosting is finally a reality, with ServerFlex.
Game hosting is not a new concept - the ability to host your favourite games on the cloud has existed for well over a decade; game hosting in the cloud is here to stay. The process is fairly straight forward, you visit the website of game hosting provider, choose a game and start playing. After a few hours you and your friends log off and for the next day or two no-one even connects to the server - but you're paying for that server even when it's not being enjoyed.

Imagine the flexibility of playing a few hours of Minecraft Zombies with your friends and immediately stop paying for your Minecraft server and spin up a new CS:GO with just three clicks - all while spending under $1.00! With ServerFlex you can do this and more, much more. No more signing long contracts of one to twelve months for a Minecraft, Factorio or CS:GO server you're not going to be using most of the time - instead rent your game servers when you need them.
A simple pay-as-you-go model will save you money, but I can already hear you asking "What about all the setup each time I want to play?" - It's a good question, time is money, and we at ServerFlex understand that. That's why our entire platform is built in-house, from clicking "Deploy" on our Website or Apps to your server starting up, everything has been designed and built by our team of engineers for speed and reliability. With other game hosting providers you may hear terms such as "Instant Deployment" but that is incredibly misleading - we did the research and on average it took companies just over ten minutes to setup servers and be playable - that is simple not good enough. Our game servers at ServerFlex are ready and playable within ten seconds - and that's a guarantee we stand by.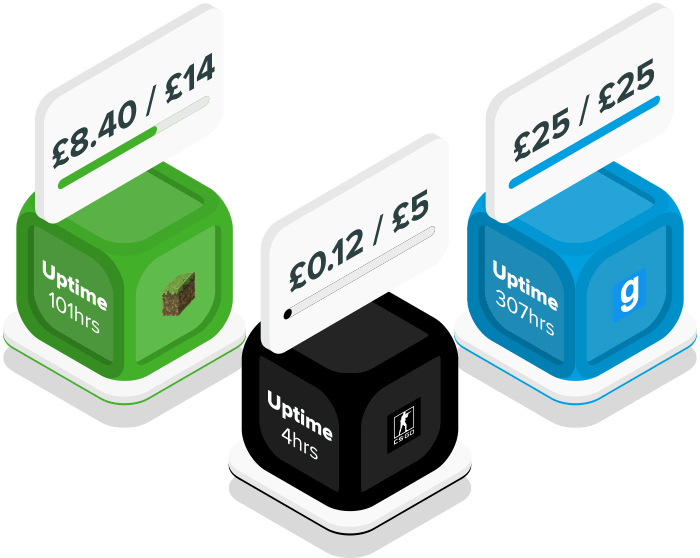 How does it work?
Let's say you want to play a match of Counter Strike: Global Offensive with your friends in a private five-v-five. (Minecraft and Factorio are available too!) You're going to need a server for all of you to connect. To get started let's head over to ServerFlex and select CS:GO Server Hosting. Let's take a look over the plans available.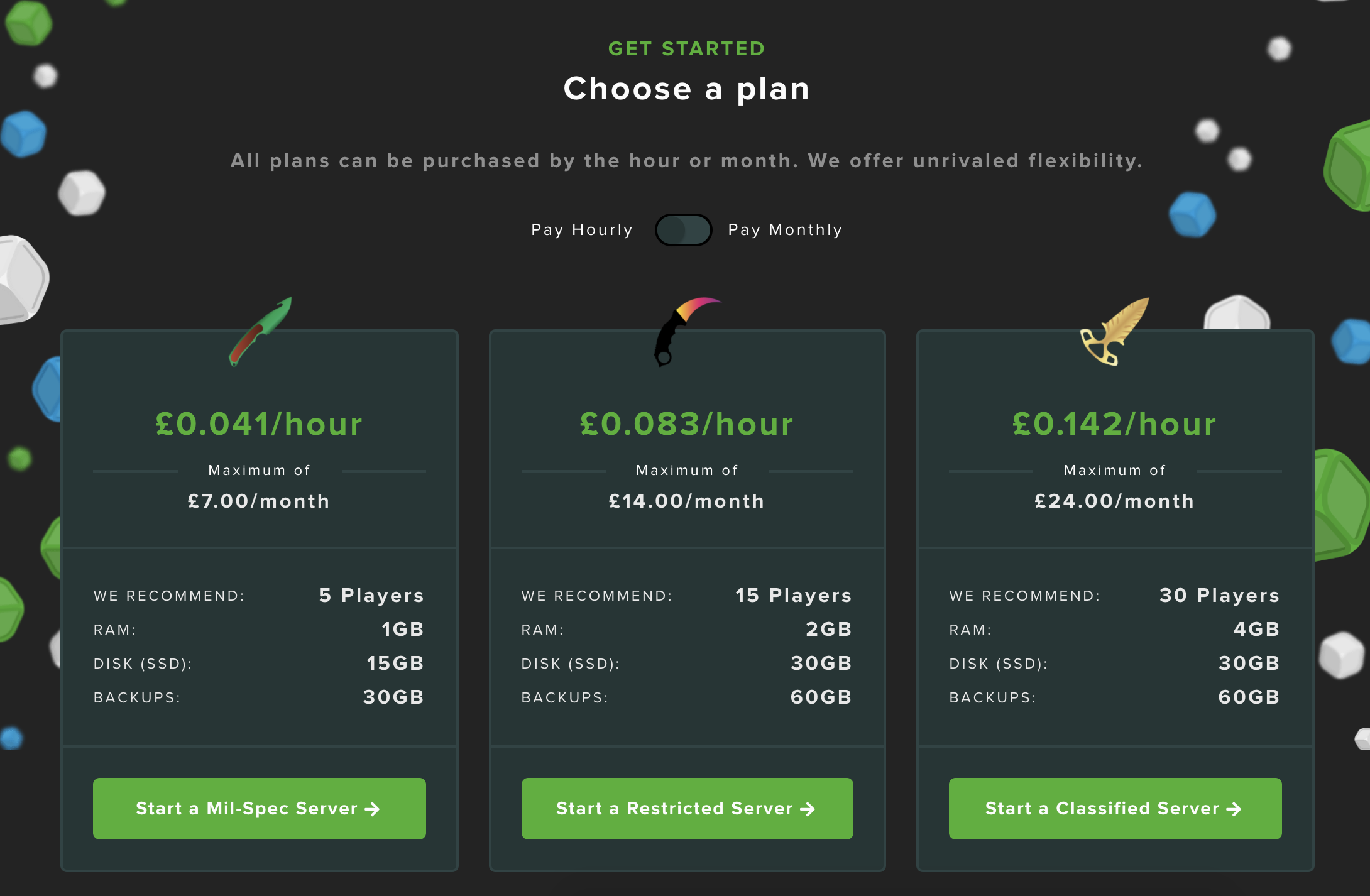 Note: Make sure you're in "Pay Hourly" mode by toggling the button just above the plans.
Great! So as we can see there are a few different choices of servers - the exact specifications you need can be worked our - however our team has already done a lot of research figuring out the perfect number of players for each plan. For our example we're going to want to host a private five-v-five match so we're going to select the second plan that can support up to twelve players. You will notice that each hour we run this server it is going to cost us just under £0.10 (£0.083) - just think about that, if you were to play for the next six hours this would cost just under £0.50!
Getting setup is really simple - just click "Start Server" on your plan, create your account, add a payment method and you're good to go - simple, fast and reliable - that's ServerFlex.
Free Trials are available for all new accounts to play around with our platform - your first server for each game will be 100% free for the first twenty-four hours, no payment information required.
Head over to ServerFlex - World Leading Game Hosting and you can get your first server running in just thirty seconds!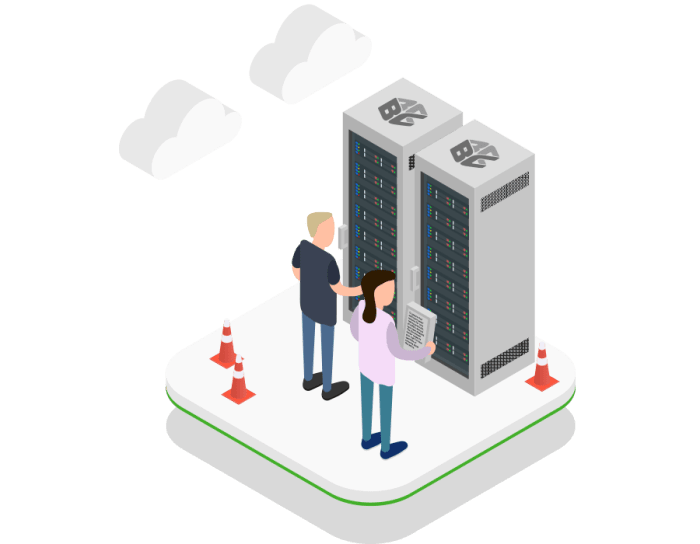 What if I leave my server running for the entire month?
This is a common question we get - the answer is simple: all plans have monthly caps. Let's take a look at that screenshot above again - you'll be able to notice that each plan has a monthly cap specified. If you start your server in November, for example, the absolute maximum we will charge you for that server for the entire month is the monthly cap, regardless of how long you keep it going. As the server is billed each hour we will check if you have hit the monthly limit, if you have we simple stop billing you for the remainder of the month. Simple!
I need a server for a month - can I do that?
Yes - much like traditional game hosting companies we do also allow you to purchase services on a monthly basis - this is perfect for times where you know you will need the server for exactly one month. We believe in offering our customers the choice - you choose which billing model is best for you. Take all the benefits of the ServerFlex platform with the same familiar billing model of other hosting providers.
Conclusion
We are continuing to add new games, new regions and new currencies to our platform on a weekly basis, and due to our enormous investment in this platform we are proud to offer the best game server hosting experience in the world. Don't just take our word for it, we're so confident that you will love our product that we offer a no-commitment, 100% free trial when you open your account. Try it for yourself today!